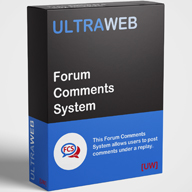 This Forum Comments System allows users to post comments under a replay.

This FCS add-on functions similar way as the vBulletin 5 comments system does. However FCS add-on has already more features than vB5 comments.

If you are familiar with vBulletin 5 comments, you will be familiar also with this system.

You have the option to preserve the comments data after FCS add-on uninstall, including reactions count preserved. Also the post count will be updated.